We are veterans in Sales and Passionate about sharing our knowledge and experience to improve your sales organisation and upgrade your sales people to excel in the current highly competitive markets.
We have developed a Bespoke Expert System Tool ("BEST") that provides your sales staff with very practical tools to change their way of thinking and to increase focus and discipline in their daily interactions with customers.
The focus of our expert advice and assistance is on:
1) How you can improve the organisation of your sales function
2) The best way to help your staff upgrade their skills to be more productive in customers engagements
3) How you can improve data analysis and get ready to set up Digital Marketing Solutions to give your staff 'the edge'
Some questions we ask you and your team to assess what advice and help you could most benefit from:
1) Do you know how to improve the Structure, Processes, Systems and Tools to get better results out of your sales organisation ?
? How do you compare with Best-in-Class sales & marketing practices that the most successful organisations use ?
? Are you organised in a way that brings out the best of your people and supports them in the most effective way to grow the business and market share?
? Do you provide your sales team with the right Tools to manage the sales process ?
2) Do your frontline sales staff have the right competencies to deliver on your sales strategy ?
More competitive markets mean that intelligent positioning of your products and services is key to success:
? Do your people work systematic and do they have know how to use the tools to deal with new demands?
? What critical competencies of your people need the be further developed to improve sales effectiveness and efficiency?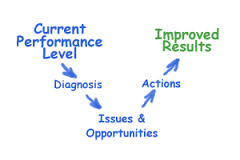 After careful analysis, we provide a detailed action report how to achieve improvements – So you can set the Priorities !
•We provide you with a "menu of improvement choices" for the key operational and staff issues so you can set your own improvement priorities
•And we help you to work on these priorities in an efficient way by defining the required development projects and implementing these in close cooperation with you.
See also on this site some examples of expert training programs for Corporate Bankers